Alexis Grace
Alexis Grace ranked in the top 300 in the United States (xvideos.com). Sources claim Alexis Grace died in her Tampa home after returning from her performance in Los Angeles. During her stay in Tampa, she decided to invest in creating additional fetish scenes; her boyfriend,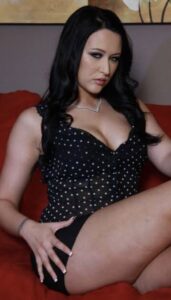 Jonathan, reports she had been suffering from her known asthma; no cause of death has been released – she was planning to go to the AVN Adult Entertainment Expo in January and begin a full showing in the industry in 2017 – Fleshbot.
Alexis Grace … According to sources, becoming interested in fetish/BDSM encourage her career while she was a teenager. Her nickname was "Your Fetish" at a neighboring fetish club; however, she didn't find the peeing scenes too appealing. Alexis made the comment about fetish modeling, "The adrenalin rush in bondage [excite her] … finding out new crazy fetishes." For your information, fetish includes sexy lingeries, sexy dresses, pantyhose, and thigh highs. Furthermore, Alexis was exciting about her career move and swore on fetish becoming a part of the mainstream culture; making good money. Born in Clearwater, FL on December 7, 1988, Alexis Grace grew up as a tall, buxom, and slender brunette. Later performing in adult entertainment by 2009, she premiered in X-Rated features: FM Concepts, White Ghetto, Wicked Pictures, and more.
According to sources, Alexis performed in productions from Team Skeet, Brazzers Network, 21 Sextury, Femdom Videos, OpenLife, Jerk-Off Encouragement, Lance Hart, Finishesthe job, Xtreme Creampie, Andrea Dipre, Schoolgirl Internal, and Draggin Ladies; specializing in domination, BDSM, and handjobs.
" There is nothing good about this and as we all know, life is good but it is definitely not fair at all."– Holly Kingstown, Pornstars.
On twitter, Alexis had fans loving on her feet. She responded with a couple of bossy chat pieces and featured pics of wonderful feet in stockings. Her survivor is her puppy.
Credit to AVN.com for getting the news out to adult entertainment enthusiasts.
Personal Info

Stage Name
Alexis Grace
Real Name
Alexis Grace Middleton
Profession(s)
Actress
Birthday
June 9, 1987
Death
August 16, 2016, in Tampa, Florida, USA  (asthma attack)
Birthplace
Clearwater, Florida, USA
Weight
123 lbs (56 kg)
Height
5 feet, 11 inches (180 cm)
Tattoos
Two cherries on right side of lower abdomen; Two hearts above right buttock with script "In Loving Memory of Dave"; Stars on inner left and right forearms; Red skull and crossbones on right ankle; Small butterfly behind left ear; Butterflies behind right ear; Three Asian characters upper spine; Colorful bird right shoulder blade; Pink and blue stars back of left ankle; Heart inner left ankle; Red flower on upper left ribcage; Star below left thumb; Star and 'Amazing Grace' wrap right wrist
Piercings
Nipples; Navel; Left labret
Links
This memorial for porn star Alexis Grace was last updated on March 22, 2021 and was considered to be accurate at that time. If you see an error on this page please contact us and let us know.
During the span of their career, pornstar Alexis Grace was known as
Alexis Grace
Age at time of death: 27
See other porn stars who were born in: 1987
See other porn stars who died in: 2016