August Ames
When August Ames killed herself following controversy on Twitter, it revealed a schism between the gay and straight communities in the porn industry
Popular porn star August Ames took her own life last week after finding herself in the middle of a controversy over cyberbullying and homophobia.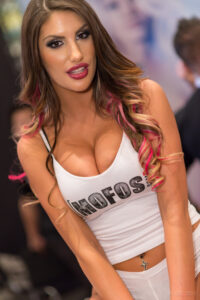 In her four years working the adult film industry, the 23-year-old had performed in over 270 scenes for major studios, amassing over 600,000 Twitter followers. In 2015, Ames (real name Mercedes Grabowski)  was nominated for Best New Starlet at the Adult Video News awards – known as the Oscars of porn – and had been nominated for Female Performer of the year for the upcoming 2018 AVNs. According to the Ventura County Medical Examiner's office, the Nova Scotia native was found in her California home. Ventura County authorities confirmed that Ames died from asphyxia due to hanging.
Ames' husband, Evil Angel producer Kevin Moore, 43, asked for privacy in a statement to AVN, stating, "She meant the world to me." Hundreds of colleagues and fans expressed their grief online, calling her "the most kind-hearted person ever" and "a beautiful light."
So why are some of Ames' friends publicly accusing fellow porn stars of driving her to suicide?
On December 3rd, a few days before her death, Ames tweeted the following:
"Whichever (lady) performer is replacing me tomorrow for @EroticaXNews, you're shooting with a guy who has shot gay porn, just to let cha know. BS is all I can say… Do agents really not care about who they're representing?… I do my homework for my body"
The concern Ames expressed in this tweet refers to what is known in the adult industry as "crossover performers," i.e. cisgender males who perform on camera with both cis women and other cis men, or with trans women. (Trans men are mostly left out of the crossover classification, as are cis women who perform with other cis women). Some performers and agencies share the view expressed in Ames' tweet, that crossover talent is "higher risk" for STIs than straight male talent. Others see this standard as homophobic, as well as a flawed rubric for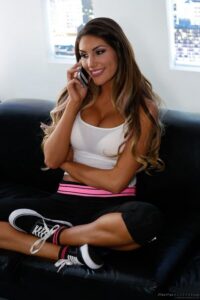 measuring safety.
Ames quickly became a lightning rod for people in and outside of the industry to express their views on this ongoing controversy, with a variety of tactics.
The following day, Wicked Pictures contract star Jessica Drake tweeted: "performers, by all means, fuck who you want to fuck…but if you're eliminating folks based on the fact they may have done gay or crossover work, your logic is seriously flawed." Drake went on to point out that discriminating against someone based on their identity or history is not a more reliable form of protection than testing, barriers or PreP, but it does contribute to harmful stigmas.
According to the Free Speech Coalition – the national trade association for the adult entertainment industry – every company shooting "straight" content requires all models to update their STI tests through Performer Availability Screening Services (PASS) in order to be considered "available" for work. Performers in the straight genre (defined by heterosexual sex as well as, counterintuitively, girl-on-girl sex) must follow PASS protocol every 14 days. Some companies allow models to choose on a scene-by-scene basis whether they would like to also use condoms, while others, like Wicked Pictures, require condoms for every shoot in addition to testing. Some companies shooting male-on-male content do not require PASS testing, but they do require condoms.
"I have worked with crossover performers, gay performers, and trans performers," Drake added. "If this puts me on your 'no' list, i didn't want to do scenes with you to begin with."
Drake, who has been in the industry since the late 1990s, has long been known for her support of the LGBTQ community. She is also one of the 19 women to accuse Donald Trump of sexual misconduct on the record. Drake pointed out later in a statement that she did not mention August by name, that she has expressed similar opinions on crossover discrimination before, and that she still holds those views.
At the other end of the civility spectrum, porn star Jaxton Wheeler, a cis man who identifies as pansexual, tweeted at Ames on December 5th: "The world is awaiting your apology or for you to swallow a cyanide pill. Either or we'll take it."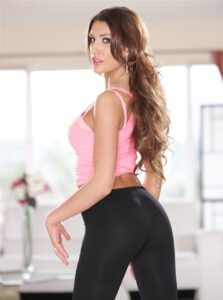 Ames doubled down on her opinion on safety as well as her right to work with and have sex with whomever she choses. Her final tweet on December 4th was "fuck y'all." Her body was found on December 5th.
When news of Ames' death broke, many who had been privy to the debate rolling out during Ames' final days concluded this was what drove her to suicide.
Industry icon Jenna Jameson, who made derisive statements earlier this year about transgender Playboy Playmate Ines Rau, told The Blast, "I am so disappointed in some of the people in the adult industry. I am also shocked and dismayed at a few FEMALES that attacked and helped fan the fire against my friend August. Her blood is on their hands."
Drake responded in several statements on Twitter, saying, "I saw someone talking about the crossover argument in my timeline and decided to post my thoughts with no harm or malice intended to August." In a statement to Rolling Stone, Drake said that, "[My Tweets] represents the facts, as well as the way I feel. I am choosing not to make any further statements at this time out of respect for August, her family, and her friends."
"I do not support cyberbullying to a point where someone would take their own damn life," Wheeler told Newsweek. "I made a horrible comment in my way of trying to say we just wanted an apology…. I feel like the shittiest person in the world." (Wheeler did not respond to RS's for request for comment via Twitter direct message.)
According to many who work in the adult entertainment industry, "crossover" double standards come up all the time, a holdover from an era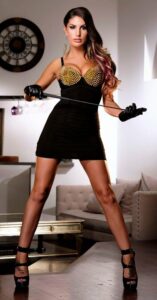 when less was known about curtailing the spread of HIV.
"I don't believe that August was homophobic. I believe that she was made to fear due to a spread of misinformation," says Michael Vegas, a bisexual cis male star who performed on camera with Ames. Vegas says he has experienced "attacks" and been sent home last minute from straight shoots when agents or models find out he has previously performed in gay scenes. He suspects that some agents foster this "fear mongering" to redirect business to the male models they represent.
While "bullying drove her to suicide" makes for a tidy story, Ames' mental health struggles did not come out of nowhere. Earlier this year, Ames was a guest on Holly Randall Unfiltered, a podcast by and about porn stars. Ames opened up to Randall about her history of depression and bipolar disorder, as well as the struggles she'd faced attempting to find a sex-work conscious therapist.
"As sex workers, we present a fantasy version of ourselves for public consumption," says Tori Lux, a porn star and professional dominatrix. "We often don't discuss our mental health issues, as doing so can potentially harm our livelihood by disrupting the element of fantasy we work so hard to cultivate."
Cis-male performer Will Havoc, who is considered crossover because he shoots with both cis and trans women, says that he was offended by Ames' statement and others like it. "There are so many untold off-camera encounters that many porn performers have with untested civilians, gay, straight or otherwise. So, there is a huge amount of hypocrisy involved when someone 'won't shoot with crossover performers,' whether or not they realize it."
Personal Info

Stage Name
August Ames
Real Name
Mercedes Grabowski
Profession(s)
Actress
Birthday
August 23, 1994
Death
December 5, 2017
Birthplace
Nova Scotia, Canada
Weight
114 lbs (52 kg)
Height
5 feet, 6 inches (168 cm)
Tattoos
"Born Wild" on lower stomach; Butterflies on the top of her right foot; Mermaid on the top left foot; Left ring finger
Piercings
Tongue; Navel; Dermal lower back dimples
This memorial for porn star August Ames was last updated on March 22, 2021 and was considered to be accurate at that time. If you see an error on this page please contact us and let us know.
During the span of their career, pornstar August Ames was known as
August Ames
,
Hailey Edwards
Age at time of death: 23
See other porn stars who were born in: 1994
See other porn stars who died in: 2017