Daisy Monroe
Former porn performer Daisy Monroe took her own life on September 3, 2019, in Las Vegas.
A friend of hers wrote in providing the details and we were able to confirm the death with the funeral home. Services will be held on Tuesday for family and close friends.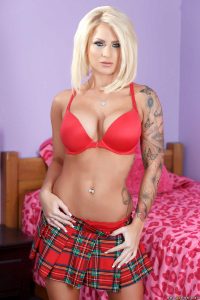 Daisy Monroe burst onto the porn scene in 2015 and starred in such hits as Big Bodacious Knocker 12 from Lethal Hardcore and True Lesbian Love 3 from Girlfriend Films. In all, she worked in just under 50 films from 2015 to 2018.
She was living in Las Vegas at the time of her death. She took her own life after the ups and downs of a bad relationship. Her family is quite understandably devastated at the loss.
Please note there is no GoFundMe. Her family has all the expenses covered. Anyone posting one is committing fraud. All her family asks for is your love and prayers.
Personal Info

Stage Name
Daisy Monroe
Profession(s)
Actress
Birthday
December 10, 1990
Death
September 3, 2019
Birthplace
Minneapolis, MN, USA
Weight
99 lbs (45 kg)
Height
5 feet, 0 inches (152 cm)
Tattoos
Full sleeve left arm; Bow on left flank; Blue butterfly on lower back
Piercings
Right monroe; Navel; Clit
This memorial for porn star Daisy Monroe was last updated on September 10, 2023 and was considered to be accurate at that time. If you see an error on this page please contact us and let us know.
During the span of their career, pornstar Daisy Monroe was known as
Daisy Monroe
Age at time of death: 29
See other porn stars who were born in: 1990
See other porn stars who died in: 2019