Jenteal
It was a shock to many that former Vivid Girl Jenteal, who entered the adult business in 1994 and stopped making movies in 2000, had died, reportedly from complications arising from surgery she'd had on her foot as a result of a Moped accident, although the website prosportsextra.com reported that the former star had had "ongoing medical issues with her foot after getting a tattoo on it back in June." She was 44 years old when she passed.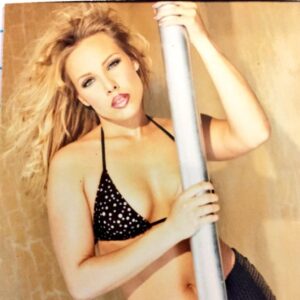 "What I had understood was that she was in a scooter accident, a Moped accident last year, and that she reached out to me because she had scraped up some tattoos," recalled Janine Lindemulder, Jenteal's close friend and fellow Vivid Girl. "And she said, 'How do I care for them?' But as far as getting a tattoo and complications from that, that I'm not aware of."
The only clue given by Jenteal herself was a pair of tweets she posted on June 29 and 30, where she wrote, "My birthday celebration! New tattoo, great fun with my local Philippino family who prepared a feast for me. It was so good!", and the next day added, "Just another lazy day on island time in the Philippines. My tattoo is pissed off and hurts, I can't wear my slippers. So what is a girl to do all day?"
Her final Instagram post was a photo of her in a hospital bed with an IV tube in her arm, with the legend, "This place has the best food I have ever had at a hospital! Veggie stir fry with rice, fresh papaya, so rich and delicious! USA…take notes." She posted it from Adventist Hospital on the island of Palawan, also part of the Philippines, not long before her death.
All of Jenteal's most recent tweets had originated from Puerto Princesa City, Mimaropa, which is a small island chain that's part of the Republic of the Philippines, which Jenteal has called home for the past year or so, though sometimes staying in northern California, her first residence after retiring from adult, and the home where she married. However, she liked to travel, and spent some time touring what's referred to as the "Pacific rim," seeing the sights and even teaching English to some local residents.
"She was telling me all these different places she wanted me to see, and she and I are both very much into Mother Earth and nature and sunrises and sunsets and really getting to the root of what life is about," Lindemulder stated. "She liked living in very bare, minimalistic, communal situations. She shared like one room with six bunks in it, sharing it with other people. She wasn't afraid of people at all; she can stay in a room with six people on a bunk and eat on the floor, and I found that to be so beautiful and so refreshing, and she had that. She made friends easily with the locals; those were her friends and family out there. She's the only female I know in my life that can be that hardcore, and it was quite impressive."
In that vein was a tweet from Jenteal dated July 4: "Let's be clear. I stopped wearing makeup last yr after traveling different countries/living different cultures. Someone gave me shit for not looking like a porn star. Suck a nut. I feel more beautiful now than ever before. And my give a fuck about what ppl think is broke."
She also reportedly had been a saleswoman for CBD products, the efficacy of which she had discovered while recovering from back surgery.
"Over the years, she dealt with a lot of medical issues," actress Brittany Andrews, who'd directed Jenteal in the documentary After Porn Ends 3, revealed. "She'd had an injury I believe while working at Trader Joe's, and after that, had a lot of problems with her back. She's had multiple surgeries, which then led her into utilizing CBD creams and things for herself, and then being very interested in trying to help others. She had brought me on the CBD train because I had back surgery earlier this year myself."
More recently, however, Jenteal had reentered the adult entertainment business by joining OnlyFans, where she posted photos and sexually explicit videos of herself.
"I am having so much fun creating content for my OnlyFans/Jenteal page!" she wrote on June 28. "If I would have known making sex videos to post would be so fun, I would have started a year ago! I [heart] giving blow jobs & having sex on my camera phone. It's so much more authentic than my years in film."
Jenteal won an assortment of awards for her work in front of the camera, including the 1995 AVN Award for Best All-Girl Sex Scene in a Film for Fantasy Chamber, and was nominated for Best Actress in a Film and Best Tease Performance by AVN in 1996. She was awarded the "Best Face in Porn" Award by RuPaul on the RuPaul Show in April of 1998. She appeared in advertising campaigns for Fresh Jive Clothes, and was the poster girl for Serial Killer Clothes, advertisements for which appeared in many national magazines such as Big Brother, Rave, Bikini magazine, and Skateboarder magazine.
Jenteal also had a few mainstream media appearances just as she was winding her way out of adult. She appeared in the Jon Favreau-directed film Made in 2001, which according to the Internet Movie Database (IMDb) was about, "Two aspiring boxers, lifelong friends, who get involved in a money-laundering scheme through a low-level organized crime group." She also appeared in some episodes of the TV series The Man Show, hosted by Adam Carolla and Jimmy Kimmel, perhaps most notably in the 1999 episode, "Millennium," which IMDb summarized as, "The guys review highlights of the past Millennium and look ahead with new man-friendly inventions with 'Millenn-o-vations'." Also in 1999, AVN reported that Jenteal and other industry actresses appeared in a music video by platinum recording artists Everclear, in the band's cover of the Thin Lizzy classic, "The Boys Are Back In Town".
Shortly after she left the adult industry, Jenteal married her long-time boyfriend—the man with whom she'd done her first on-camera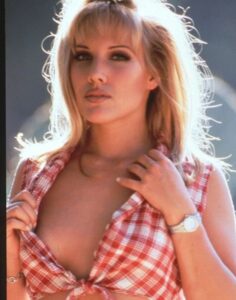 boy/girl scene—and in 2001, she gave birth to twins.
In the late '90s, Doc Johnson marketed the Jenteal Ultra-Realistic Vibrating Vagina and Anus.
The majority of people AVN has spoken with had nothing but positive comments about Jenteal's work making movies and about her personality in general.
"What a beautiful soul she was and I'm so saddened to hear of her early departure," said Christy Canyon, who also was under contract to Vivid in those years. "She was just a wonderful girl. She was one of the good ones, but all of us Vivid Girls were amazing; I don't have a bad story about any of us. We were all having fun and working for the best company out there."
"I always cast her in the sweet, light-hearted roles because that's how she came across to me," recalled Kelly Holland, who directed movies for Vivid under the name of Toni English. "She told me she was born in Oklahoma, and she was very representative of the Midwest, southern Midwest, and just always sweet; reminded me of butterflies and sunshine, for want of a better expression. That's how I would cast her all the time. And diligent, not flaky, not temperamental or problematic, just really a delight to work with."
"I remember Jenteal as being young and beautiful with an infectious smile," Vivid VP Marci Hirsch told AVN. "She was tech savvy and I believe was the first Vivid Girl to oversee websites for other performers. She was smart and always fun to be around. She's gone way too young."
Brad Armstrong, who'd directed Jenteal in a number of Vivid projects, also remembered her fondly.
"I haven't seen Jenteal too much over the years but in the early '90s, we worked together on Where the Boys Aren't projects, and she was always a delight to work with; such a bubbly and well-meaning girl," he said. "She had a pretty face, was always fun to be with, and I didn't have a ton of personal interaction with her as far as hanging out and stuff, but definitely fond memories; she was always a sweetheart."
Awarded Vivid director Paul Thomas also had praise for Jenteal's acting ability, and compared her favorably to some of the other Vivid Girls he'd worked with.
"When I think of Jenteal, I think of someone who was on the serious side," Thomas told AVN. "She wasn't full of shit. She wasn't overly immature for her age. She seemed to have it together and was mature and reasonably serious, and she had an intense sexual connection in the scenes I directed. In front of the camera, she really turned it on and she could be very intense and into the moment, genuinely authentically turned on and into the sex that she was having with her partner. I particularly remember sex scenes between her and Jon Dough. When I think of a lot of the Vivid Girls, I think of prima donnas way before their time, but she was just a down-to-earth, pretty blonde girl, nothing particularly exceptional about her except when she got on camera.
"I remember I yelled at her one day; really yelled, but she wouldn't take it," he added. "I couldn't yell at her to get her to do things. A lot of the girls, when I would yell, they would shrink into little peanuts. She yelled back at me. She put me in my place and I probably didn't yell at her anymore."
Shortly before her death, Jenteal and Janine were in the process of making plans for a visit to Jenteal's Philippines home.
"We were talking on the phone and she wanted me to come out there," Lindemulder recalled, "and I'm looking up flights and I'm gung-ho; wasn't able to make it there, and now, I'm going 'God, I should have.' I feel like I failed her. She had reached out to me in early September and I did not get back to her, and I feel like a total piece of shit for not reaching out, and I don't even know what happened. I've got so many questions, and I don't know what happened. Do I have a right to know?  Am I not supposed to know? I don't even know what to think about this."
Another actress who knew Jenteal well was Melissa Hill, and it was Hill who broke the news on Twitter that Jenteal had died. AVN spoke extensively with Hill, and her recollections of her time with Jenteal will be set forth in a separate article.
Personal Info

Stage Name
Aline Rios
Profession(s)
Actress
Birthday
June 26, 1976
Death
  (Cancer)
Birthplace
Oklahoma, USA
Weight
116 lbs (53 kg)
Height
5 feet, 6 inches (168 cm)
Tattoos
Inside on right ankle: Outside on left ankle
Piercings
navel
This memorial for porn star Jenteal was last updated on March 22, 2021 and was considered to be accurate at that time. If you see an error on this page please contact us and let us know.
During the span of their career, pornstar Jenteal was known as
Genteal
,
Jen
,
Jen Teal
,
Jenteal
Age at time of death: 44
See other porn stars who were born in: 1976
See other porn stars who died in: 2020