Riley Evans
Former porn star Riley Evans was born on June 03, 1986 and died on March 26, 2019. She entered the adult industry in 2005 and retired in 2017 — she starred in more than 400 scenes during that time.
She got her start in porn in Florida before eventually making the move to LA. During the span of her career, she starred in almost 400 movies. One of the first movies she did was called Absolute Asses for Amateur District.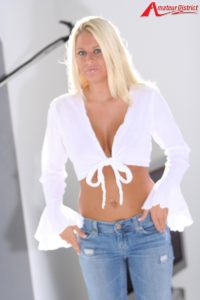 She was a very busty blonde with great curves but in 2017 fans noticed she lost a drastic amount of weight. It's suspected that was the time she began her battle with breast cancer, although it wasn't something she spoke about publicly.
She went through multiple rounds of chemo, had her breast implants removed …. all in an effort to fight off the cancer. In the end, she was not successful, as she lost her battle with breast cancer on March 26, 2019.
This memorial for porn star Riley Evans was last updated on September 10, 2023 and was considered to be accurate at that time. If you see an error on this page please contact us and let us know.
During the span of their career, pornstar Riley Evans was known as
Riley Evans
Age at time of death: 32
See other porn stars who were born in: 1986
See other porn stars who died in: 2019