Selina Moon
Born on March 2, 2001, Selina Moon started in porn just last year and has only been in a handful of movies. She had just turned 20 years old in March of this year.
She died sometime around the first of May (2021) from an accidental overdose, while in LA fliming.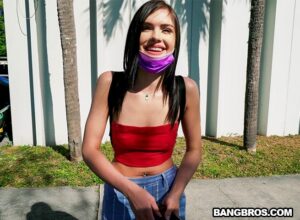 Hussie Models quietly removed her from their website, without reporting her death to anyone within the industry.
We don't know any more details about her death, other than what was sent to us by one of her friends who wished to remain anonymous. This friend was with her in LA at the time of her passing.
She has not updated her Instagram in 7 weeks and her Twitter since April 25th. She was last seen on her OnlyFans on April 27th. Prior to that, she was very active on social media and her OnlyFans where she would log on multiple times per day.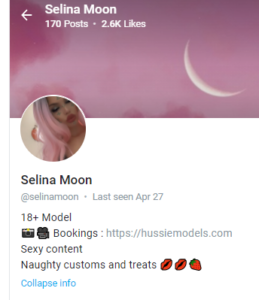 Hussie Models has not owned up to their responsibility in her passing but they did make a passive-aggressive post confirming her death.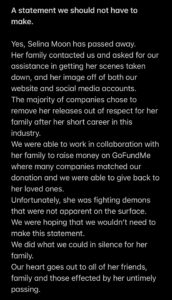 This memorial for porn star Selina Moon was last updated on July 3, 2021 and was considered to be accurate at that time. If you see an error on this page please contact us and let us know.
During the span of their career, pornstar Selina Moon was known as
Selina
Age at time of death: 20
See other porn stars who were born in: 2001
See other porn stars who died in: 2021