Shyla Stylez
A GoFund Me account to help pay Shyla Stylez's hospital bills and funeral expenses has been opened.
The adult filmmaking community was reeling late Friday afternoon after learning about the passing of longtime star Shyla Stylez, who was 35.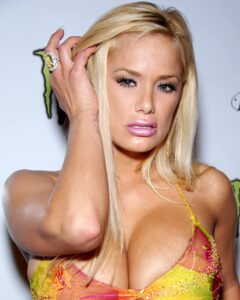 Details of her passing have not been discerned at post time; James Bartholet confirmed her death to XBIZ via text and said a statement would be issued tomorrow. Bartholet was Stylez's publicist and manager when she was still active in adult.
Social media on Friday was abuzz with words of sorrow over the news.
"At a loss for words. So sad that my old friend @MsShylaStylez has left us," Alana Evans, adult star and APAG vice president, said on Twitter. "You were one of the most beautiful women I've ever known."
Evans went on to note that Stylez was very much like Marilyn Monroe.
"Whenever she entered a room, it didn't matter who was around, all you saw was Shyla," Evans said. "Her energy and beauty consumed you instantly. And just like Marilyn, she has left us too early."
A close friend, Jesse Jane, who worked with Stylez on the big-budget Digital Playground movie "Pirates II," posted a recent video on her Twitter account celebrating the adult star's birthday.
Jane said on Twitter: "You're in a better place now but you'll be so very missed."
RIP Shyla Stylez ????????????

— Jesse (@jessejane) November 10, 2017
Stylez shot more than 400 films during her adult career, which spanned 2000-2016. Some of her other stage names were Shyla, Amanda Auclair and Shyla Stylex. Her first name at birth was Amanda.
She was born on Sept. 23, 1982, in Armstrong, B.C., Canada. After high school, she moved to Vancouver and worked in the cams biz. In 2000, she came to Porn Valley, where she met Erik Everhard and started working for Anabolic Productions. Her first appearance was in "Perverted Point of View."
Stylez later became a contract girl for Jill Kelly Productions and married company CEO Bob Friedland in 2002 (the couple divorced in August 2003). She made a porn-career comeback in 2006 and continued adult filmmaking through last year.
Personal Info

Stage Name
Shyla Stylez
Real Name
Amanda Hardy
Profession(s)
Actress
Birthday
September 23, 1982
Death
November 9, 2017
Birthplace
Armstrong, British Columbia, Canada
Weight
107 lbs (49 kg)
Height
5 feet, 3 inches (160 cm)
Tattoos
Flower inside left wrist; Inside right wrist; Left ring finger; Small heart right bikini line; Tribal left ankle with panda bear on inside and "J'Adore Mamma" on the outside; behind left ear running down the side of her throat (Purpule roses, with text "Believe") (May, 2014) Scorpio on her left ring finger (May 2014) pinky fingers (2015) Inside of left ring finger (2015)
Piercings
Tounge; Nipples; Navel
AWARDS
2003
Nominee: Best New Starlet
2016
Inducted: Hall of Fame (Video Branch)
2014
Nominee: Best Boobs
2014
Nominee: Best Boobs
2011
Inducted: Hall of Fame
2006
Nominee: Best Cumback
2011
Nominee: Orgasmic Analist of the Year
This memorial for porn star Shyla Stylez was last updated on March 22, 2021 and was considered to be accurate at that time. If you see an error on this page please contact us and let us know.
During the span of their career, pornstar Shyla Stylez was known as
Amanda Auclair
,
Shila
,
Shyla
,
Shyla Styles
,
Shyla Stylex
,
Shyla Stylez
Age at time of death: 35
See other porn stars who were born in: 1982
See other porn stars who died in: 2017