Victoria Paris
1990s porn legend Victoria Paris has passed away due to cancer. She was 60 years old at the time of her death (August 2021).
Victoria Paris was no one's "dumb blonde", even if she played one on screen …  she had a bachelor's degree in Nutrition and planned to someday write a book on the subject.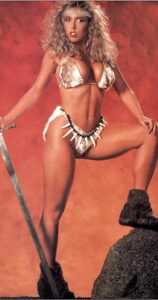 Born in Great Falls, Montana, Victoria Paris started her career in 1989 and retired sometime between 2001 and 2002. During her career, she starred in over 200 movies, including gems like Head Coeds Society, Heavenly Bodies, Hotel Paradise, Lies of Passion, Lesbians in Tight Shorts, and X Dreams.
This memorial for porn star Victoria Paris was last updated on August 15, 2021 and was considered to be accurate at that time. If you see an error on this page please contact us and let us know.
During the span of their career, pornstar Victoria Paris was known as
Vicky Paris
Age at time of death: 60
See other porn stars who were born in: 1960
See other porn stars who died in: 2021